Here you get to the tutorial for monitoring.
In the status display you see the feedback of documents, which were distributed by the current user. Via the menu items
Current feedback
,
Expired feedback
,
Hidden feedback
,
Archive
and
Important documents
you can activate different views of the status display. You can open the status display also via
Distributed documents
->

->
Feedback
but in this case you see only feedback of the chosen circular.
Difference between the different views
Below the title
Status display
you see depending on the view different documents with the feedback out of the circular. The following table displays the difference betweeen the different views:
Menu item
Characteristics of shown documents
Current feedback

Deadline is not yet expired
Document is not hidden
Circular is not archived

Expired feedback

Deadline is expired
Document is not hidden
Circular is not archived

Hidden feedback

Document is hidden
Circular is not archived

Archive
Important documents

Current user (departement of patent) has rated the document as Relevant, Conflict or Opposition
With the dropdown menu at the top right you can filter the shown documents by the type of feedback using the following options:
All documents with response
Show only relevant documents
Show only relevant documents (complete)
Documents which were neither marked as
Conflict
or
Relevant
nor as
Seen
will not be shown. With the symbol

you open the print view.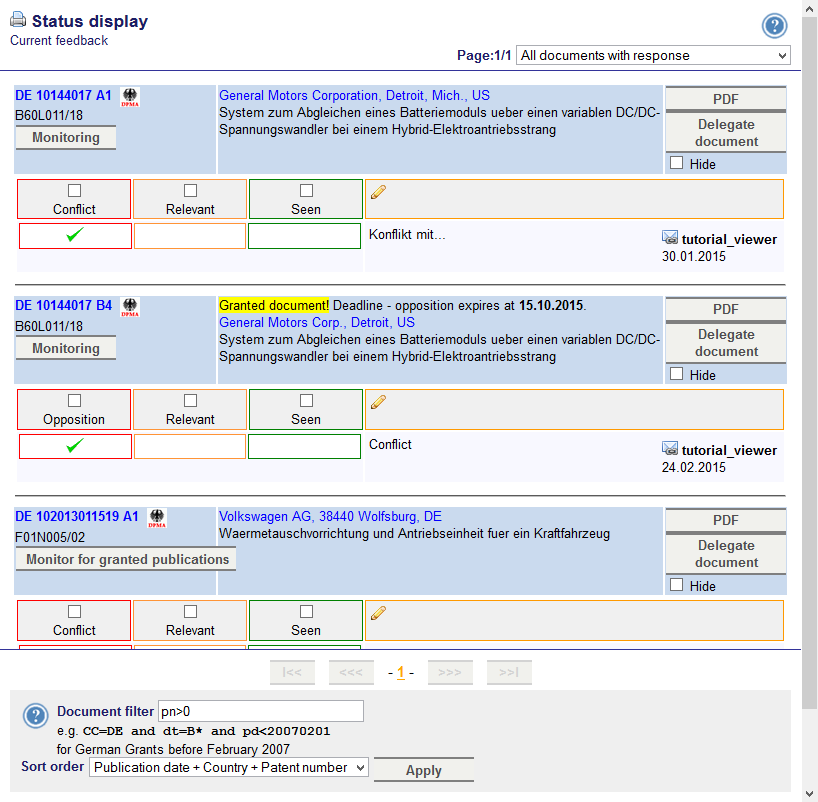 Overview of the documents
The information to a document are structured by colored background: Light-blue background - Bibliographic Data:
Patent number (view document)
Symbol for the publication office (view patent register data)
Monitor for granted publications bzw. Monitoring (see also Alert)
PDF (complete document is displayed)
Delegate document (to an additional viewer)
Hide (removes document from view)
Light-grey background - own rating:
Operations: Conflict / Opposition, Relevant and Seen
Comment from the current user of the departement of patent (possible to edit)
White background - feedback of viewer
This symbol is shown in the corresponding field.
Comment of the viewer for the feedback
Name of the viewer with date of the feedback.
Send a system message to the user with this symbol . The message refers to this document.
Options at the bottom
| | |
| --- | --- |
| Document filter | This filter conduces to reduce the amount of displayed documents. You can open the input assistant with this Symbol (see also Expert search). |
| Sort order | You can sort by Publication date+Country+Patent number or by Country+Patent number. |
| Apply | Applies the document filter and sort order and displays the documents corresponding |
| |<<, <<<, >>>, >>| 1-3-5... | Navigate between the pages |