Here you get to the tutorial for monitoring.
In the window
Distributed documents
(below
Monitoring
) you see all distributed monitorings. Here you can work further on it .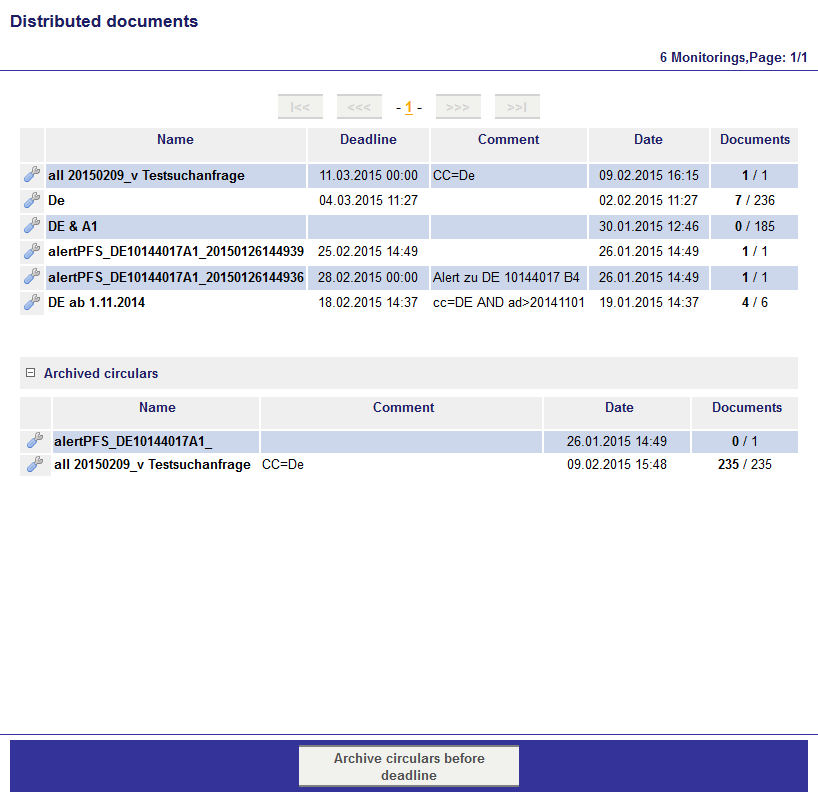 You see the following data:
Name of the monitoring
Deadline of the monitoring
Comment
Date of creation
Number of Documents of the monitoring (already edited by viewer/ all documents)
The list is ordered descending by the user and date. Usually archived circulars are faded out and can be faded in by the symbol

. In the tool menu

the following commands are located:
| | |
| --- | --- |
| Report | Displays all delegated documents of the monitoring. You can sort by documents or by recipients (see below). |
| Start again | Enables the new creation of the circular (see also New documents->Create circular). Recipients of the previous circular remain preserved. |
| Feedback | Displays the processing status of documents in this circular with existing feedback (see below) |
| Delegate all documents | Delegate all documents of this monitoring to one user or group (see also New documents->Delegate all documents) |
| Change deadline | Edit the deadline of the circular |
| Archive | Archive this distributed monitoring |
Report
The report function lists all documents in the circular in a short form. With the drop down menu in the upper part you can filter the documents with the following options:
All documents in circular
All documents with response
All documents without response
All documents with response after expired processing limit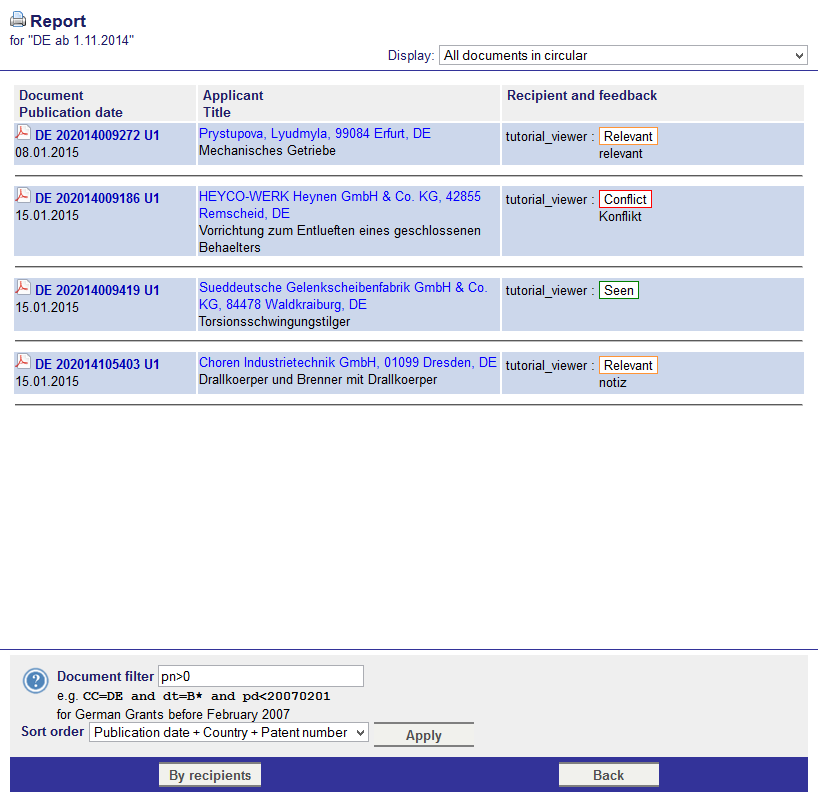 In the menu bar at the bottom are the commands
By recipients
and
Back
.
By recipients
switches to the sorting by recipients. In the new view the button changes in to
By documents
and switches back to the sorting by patent data. With the button
Back
you get back to the overview of distributed monitorings.
Feedback
Here all documents are displayed, which are marked as
Conflict
,
Relevant
or
Seen
. This view equals the view in
Status disblay / Feedback
with the exception that in this view you only see documents with a response.