Here you get to the tutorial.
You find the window Favourites via the left menu item Search. Here you see all saved search results and favourite lists. In the tool menu

you find the following commands:
| | |
| --- | --- |
| Edit | Edit the documents (e.g.: add a comment, select descriptors, display PDF...) (click here for further information) |
| Save new | Edit name, comment, type and recipient. (The dialog correspond to the saving dialog in the search results after a query.) |
| Merge with | The document from the first list are added to the secondly chosen list. |
| Shrink (family) | Reduce the list, so that the list contains one document per family. The reduced list will be saved with the prefix [Fam] as new list. Remark: Per family the first chosen document of the database is selected. |
| Create table | Export of the table |
| Delete | Delete the search result or favourite list |
Remark
: A search result of a group can only be deleted by the owner of the search result.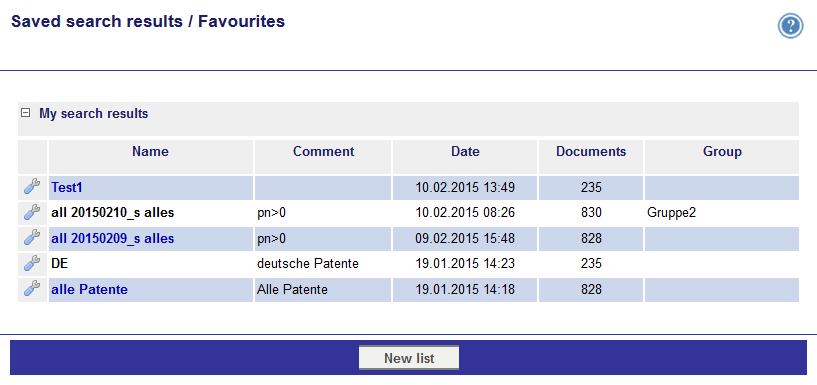 Save search results once again
Via
Save new
in the tool menu the following data can be changed:
Name of the search result
Comment
Type
Recipient (Distribution to users)
Remark
:
This function correspond to Save search results after a search query.
If you select a new receiver the search result won't be displayed in your favourites.