Here you get to the tutorial.
The window document display shows the bibliographic data of the chosen document. For a faster classification you see draft to the patent, if available. You get to the document display via the symbol

or click on the patent number. In the upper area you see the following options:
| | |
| --- | --- |
| | Navigate within the results. |
| | Display of the complete document, incl. draft as PDF. (Via Show document you switch to the document display.) |
| | Mark document as favourite - will be placed in Search -> Favourites (By moving the mouse over it you see which favourite list contains the document.) You can choose in which favourite list you want to add this document. |
| | Open the tool menu |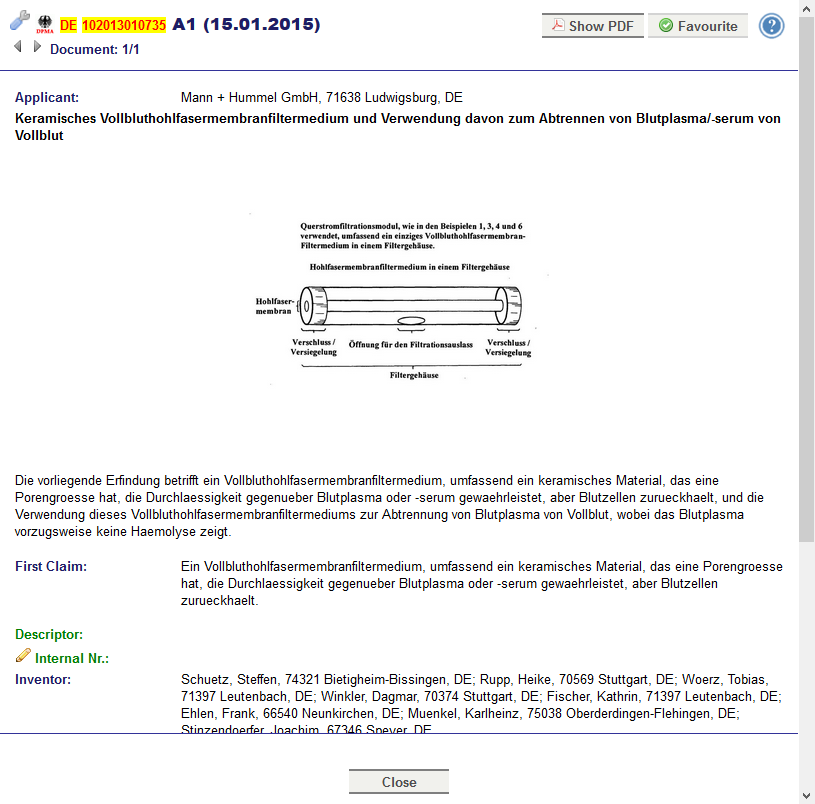 In the tool menu

you find the following options:
| | |
| --- | --- |
| Monitoring document/family | Starts the monitoring of family members to this document. This means, you inform the patent department that you are interested in family members to this document (see also Alerts). |
| Info to patent department | Send a message to a user in the patent department (this message is displayed in the history of the document). |
| Send document link | Starts the local email program to send the link. |
| Print preview | Generates a preview for printing the document. |
| Export data | Document data of this document or the complete circular can be exported as table. |
This display contains the bibliographic data of the current publication as well as editable fields (notice, reference number,...) and information to the circular and the patent families. You can edit all fields in this view which are marked with the pen

. There are different possibilities to show patent family data:
Display the INPADOC-family via the link to espacenet (external link to the server of EPA opens in a new window).
Query members opens a list of all available family members in patentGate
Query members external starts the PatFamService request, which displays the INPADOC family (all family members)
In Citations -> Family patents are shown, which cite this patent family and which are cited by this patent family.
With the appropriate settings you can
order documents
in the document display. Are already family members distributed and rated, the family history is also displayed. The patent number leads to the already rated document. In History you see the comments of all users. Optionally the display of the ratings can be limited for users with the same host part of the email address. Patent department and administration can also
edit the bibliographic data
. In the lower menu bar is the button
Close
to close the window.